About the book: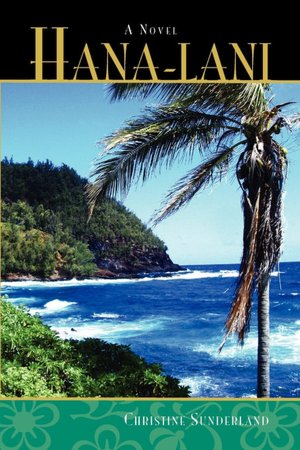 Only opening their hearts will keep them from plunging into the dark abyss.
Old Nani-lei lives in Hana-lani, her family home in rural Hawaii. She looks after her grandson Henry, 52, and his daughter Lucy, 6, who have returned to Maui from Berkeley after the death of Maria, Henry's wife. Henry and Maria, both professors, had been
working
on "A History of Ethics," and now the grieving Henry struggles to finish it.
City girl Meredith Campbell, 36, fast-paced, self-centered, and beautiful, believes her body will ensure her happiness. After losing her
job
and finding her lover unfaithful, she flies to Maui, sure he will follow...but her plane crashes near Hana-lani.
As their worlds collide in a natural world both beautiful and dangerous, Henry will be forced to act on his words, and Meredith will come face-to-face with her own life choices.
A poignant journey that unravels T.S. Eliot's "permanent questions"
What is goodness, truth, and love?
Compelling Literary Fiction
Spending considerable time in Italy, France, and England, she has developed a keen interest in history, the ability of the individual to change events, and the power of belief. In her stories, she brings to life the effect of the past upon the present, the puzzle of perception, and the mystery of time. She is also fascinated by the miracles of life and the pleasure of the senses, from a flaming candle lighting the dark to a rose petal glistening with dew, from the cherry and berry in a fruity Chianti to the yeasty aroma of fresh baked bread.
Christine's stories are set in the present, but draw from the past. The trilogy of Western Europe include: Pilgrimage, in Italy, a story of grief and healing; Offerings, in France, a story of trust and faith; Inheritance, in England, a story of life and belief. Her fourth novel, Hana-lani, takes place in Hawaii and explores the demands of love.
Christine is currently
working
on a novel about Mary Magdalene set in Rome and Provence.
My review:
I loved this book and was sad when it was over. I think every lady 18 and over should read this book. I do not think this is a book for a man but you never know. LOL. I seriously butterflying give this book 5 stars. Yes, you read correctly. Five stars baby!!! ((((((((((:
Stars I give this book:
***** (5)
(I have personally reviewed the product listed above. I did receive a free product to try out so I could evaluate and use it for my review. My thoughts & opinions in this review are honest and your opinions may be different than mine. I am not responsible for delivery of any giveaway items won from this blog, but if you have any questions about the item you have won, please email me and I will look into it.)