About the book: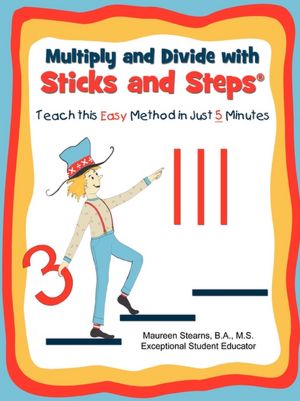 Math concepts can seem very abstract, but in just a short time, literally in just 5 minutes, students can learn how to multiply. This book concretely shows what multiplication is, instead of just having students memorize the times tables. It gives step-by-step instructions as well as sample problems showing how the process works. A natural flow occurs throughout the book as concepts get more difficult. Also included are easy ways to divide, find least common multiples, and square roots. This simple, hands-on method will help students achieve a better understanding of mathematics and boost self-confidence as well. Students will become so proficient they will be able to teach Sticks and Steps to others who struggle with multiplication and division. Multiply and Divide with Sticks® and Steps is easy to learn, easy to teach, and so logical, it's easy to remember. An essential resource for parents and educators to carry with them in their bag of tricks.
About the author:
Maureen Stearns enjoys fostering personal growth in others. One outlet for this is her work as an Exceptional Student Education teacher in St. Petersburg, Florida.
Maureen earned a Bachelor's Degree in Education from the University of South Florida in St. Petersburg in 1992. Then, in the late '90s, she decided to work toward a Master's Degree in Community Psychology at Springfield College in Tampa. During this coursework, Maureen chose courage as her topic for an "I Project." The goal of this project was to pull something out of one's self that had deep meaning and to develop it in some way. Her project on courage grew into the book, Conscious Courage®, and will be the inspiration for future books in this series. Maureen received her Master's Degree in 2000.
My review:
Wow this author is super smart and knows how to teach children. I have always had some difficulty with multiplying and dividing and Maureen made it easier on me. I will totally keep this book for reference for my kids, nieces and nephews. When and if they ever need math help.
Stars I give this book:
***** (5 Stars)
(I have personally reviewed the product listed above. I did receive a free product to try out so I could evaluate and use it for my review. My thoughts & opinions in this review are honest and your opinions may be different than mine. I am not responsible for delivery of any giveaway items won from this blog, but if you have any questions about the item you have won, please email me and I will look into it.)